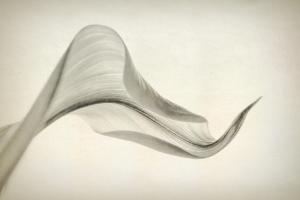 Mindful photograph involves slowing down, looking deeply, and then looking again, even more deeply. I practiced mindful photography to create this calla lily image, "Grace". I had purchased a pot of blooming calla lilies to brighten my kitchen window sill. I was enjoying watching each lily bloom and unfold, day by day. I decided to photograph them, and brought them outdoors into lovely light, on an overcast morning. Overcast days bring even beautiful light, and no shadows. I photographed a few different flowers, trying different angles, and studying the lines and curves of the flowers, and the ways the light interacted with each flower. I started to see more and more. Some of the flower tips had tiny brown spots I hadn't noticed before, as did this one. I started to judge the brown spots as imperfections, but then let go of this judgment, and focused on the beauty and the emotion of each flower. This particular flower reminded me of a bird taking off in flight. I started paying attention to the flower's lines and curves. I photographed it against the overcast sky, and allowed the sky to become almost blown out, creating a white background. I was very moved by the curve of the flower, and its petal "wings", the light shining through the flower, and the feeling of grace it evoked in me.

I have discovered that mindful photography has helped me to see everything in my life more fully and more deeply. And this practice of "learning to see" helps me also learn to be more present, and simply to be.

Some mindful photographers follow a practice of minimizing processing of images. I prefer to process images, practicing mindfulness as I do so. In this case, I processed this image, from a RAW file, in the digital darkroom. Once I brought out its beauty, by adjusting exposure, highlights, vibrancy, clarity, contrast, and other such technical things, I loved it even more. But then I noticed that in some ways the color detracted from the image. The lily is white, with green streaks, and some yellow. The color was competing with the graceful curves and lines. So I experimented with processing this image as a black and white image, and was even more pleased with the result. It looks beautiful also with a plain white background, from the almost blown out sky behind it. However, I wanted to experiment with adding a texture to the background, to give the flower a bit of "framing". Photographs are not like our eyes. We see a beautiful flower, and focus on the flower, and ignore the background. Our gaze "holds" the flower. But in a photograph, there is simply the flower on the paper, and the edge of the paper or frame. I thought that this flower would be enhanced by adding a texture to the background to hold the flower and give it some depth. After trying several different textures, I settled on this composition. I might play around with this some more, but for now, I am pleased with this result.

Practicing mindful photography involves creating images mindfully, paying attention on purpose to the entire field of sensory and emotional experience. Practicing mindful photography also involves processing images mindfully. Practicing viewing images mindfully, noticing how our eyes flow through an image, and how we react and respond to an image, is also part of mindful photography. This last aspect helps us tweak images and add creative touches, such as deciding an image will be enhanced by eliminating color, or by adding a texture and special effect.

In an upcoming post, I will explore the many different aspects involved in mindful photography.

This calla Lily image, "Grace" can be found in my gallery, Black and White" as well as my gallery, "Flowers".