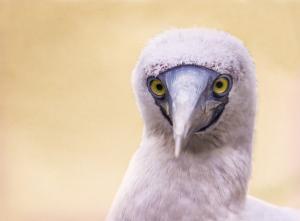 The article, "Exploring Nature One Frame At A Time", which features me as one of a few Florida Keys photographers is now posted online. The article appears on the May 2017 print edition of Unwind Magazine, and can be found on page 8 of 17 of the digital copy at this website: http://www.flkeysnews.com/living/unwind/article155072364.ece/binary/UnwindMagazineMay.pdf. You can also google "Unwind Magazine, Florida Keys", and go to the Unwind Magazine site, at flkeysnews.com. Once on the Unwind Magazine website, click on the May 2017 issue and go to page 8 of the digital edition, or page 15 of the print edition.

Another local photographer, Carmen Alex, wrote the article, and was kind enough to photograph me for the article. While she was photographing me, I was photographing "My Booby Buddy". Booby birds are not native to the Florida Keys, but sometimes, especially when injured, they land on boats out in the sea. One such bird with an injured wing was brought into the Florida Keys Wild Bird Center for rehabilitation. I was fortunate to have a lovely prolonged encounter.

"My Booby Buddy" can be found in my gallery, Wildlife, as well as my "Florida Keys" gallery.