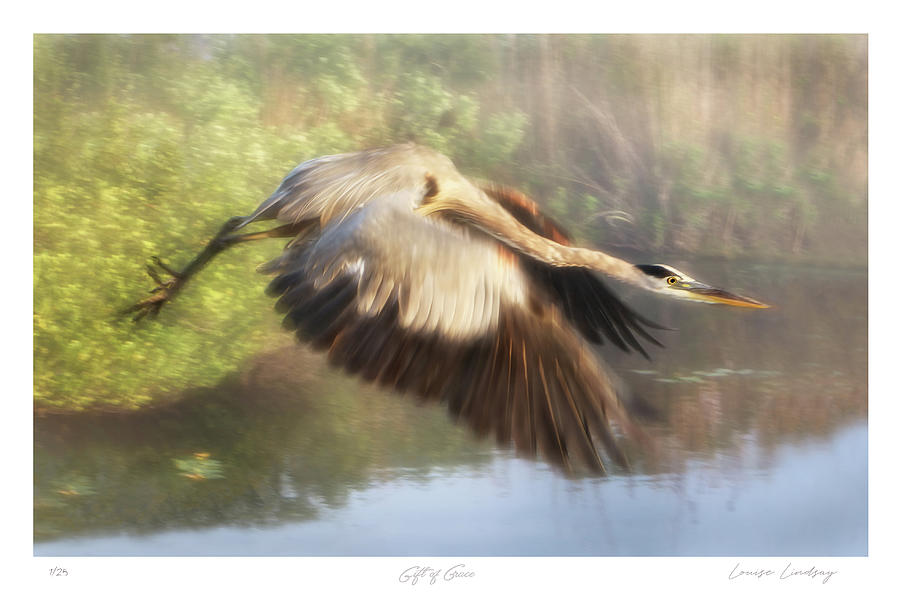 Title
Gift of Grace with border
Medium
Photograph - Photography
Description
I came upon the "gift" of a glorious Great Blue Heron sitting on a railing in Everglades National Park at sunrise, just as the fog was burning off. I carefully moved closer, and experienced some wonderful moments with this large, amazing bird. Then suddenly he pushed off into flight, right in front of me. I could almost reach out and touch him. I managed to create this image, keeping him in the frame as he pushed off into flight. I had set the shutter speed at 1/160, which worked well for getting this intentional camera motion as he flew. I liked seeing the curve of his body as he pushed off, echoing the curve of his wings, and of the green bushes. His long extended neck and curved body also reveal his fragility. It's rare to catch Great Blue Herons in this moment of push off into flight, with their necks fully extended, and their body in a C curve. He looks so big, but is all feathers. It was a privilege to encounter this bird. I wanted to create a more poetical image that revealed the bird's spirit and honored our encounter. I liked the more painterly feel.

This image will look best printed on paper or canvas. Please spring for one of the art papers, especially the Watercolor Paper or Somerset Velvet, as the prints are much richer on better paper with a bit of texture in the paper.

This version is signed, titled, and set up for a limited edition. It is set up for matting and framing, with a 1/2" white space around the image. It will look best with a 3" mat. I like a white simple frame, but you may find another that suits your decor. For printing on canvas or other materials, use the image of Gift of Grace that is in my Wildlife collection.

Do check this image with the preview you get by clicking on the image, to see how beautiful it is, and what detail is present, even when printed very large. If you like this image, please use any of the buttons (i.e. FB, Twitter, and Google+) to share with your friends and family!

This artwork is owned solely by the artist and as such is protected by U.S. and international copyright laws, all rights reserved. This artwork may not be copied, reproduced, manipulated or used in any way without written permission.

IMPORTANT PRINTING INFORMATION: Our professional printing facility has a feature for customers who desire artwork prepared for them to be in standard sizes such as 8 x 10, 11 x 14, 16 x 20, 24 x 30, 36 x 24 and so on. By default, my images are available in standard and sometimes non-standard sizes, just as I composed them in camera. Any artistic image made by any artist, usually starts in a format where the width to the height is in a ratio of 2 to 3 or 3 to 4. For any artist's print, this pre-determined proportion creates a requirement, at certain print sizes, for the use of custom mats and frames. If you are framing one of my prints yourself, this can sometimes add to the final costs. During your selection of my art, (on the size tab) note that you can select a NATURAL, VERTICAL, HORIZONTAL or SQUARE format. The NATURAL format is my original-sized and proportioned art as composed and processed during my creation of the image. For some printed pieces, this selection will require non-standard size mats and frames. The VERTICAL, HORIZONTAL or SQUARE formats will produce an image which will always work in standard-size mats and frames. Although some portions of my original composition may not be included in the final printed image if you chose this sizing, these selections may still produce beautiful works of art which could better suit your needs or style. So go ahead and see for yourself, by viewing your favorite images in these new formats, in the various sizes and wide selections of mats, frames, canvas, metal, wood or acrylic materials. Of course, if you select a mat and frame from my printer, they will custom make the mat and frame to fit your print, at whatever size you select. The prices are quite reasonable.
Uploaded
December 9th, 2020
Statistics
Viewed 132 Times - Last Visitor from Beverly Hills, CA on 12/04/2023 at 9:11 AM